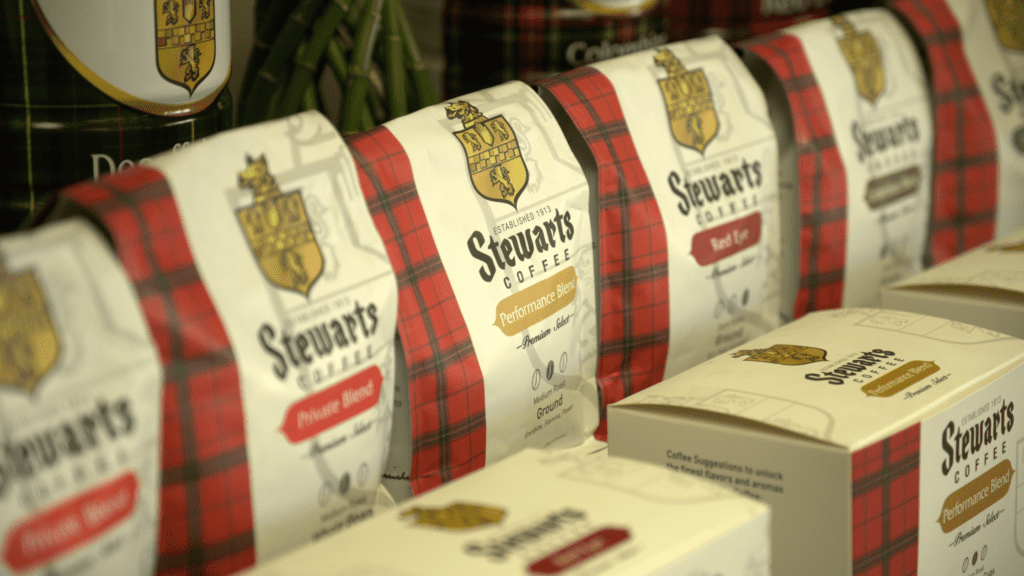 Let's take a trip back in time to 1913. Europe was on the brink of war, with tensions between countries mounting, which would lead to the start of World War I in just one year. Henry Ford had just introduced the moving assembly line, a key step to the mass production of the automobile. The first transcontinental phone call took place, and commercial radio was still a few years in the future. And, in Chicago, William Stewart, founder and "great grandpa" of Stewarts Coffee, formulated his Private Blend Coffee and established a business that would become the city's oldest family-owned coffee company.
Not Really a Coffee Drinker
After college, Joe Cappuccitti went into accounting, and his first audit in 1986 was with Stewarts. On his first visit, he was in the Stewarts kitchen when a man asked him if he'd like a cup of coffee. "My dad had always served us espresso and cappuccino," Joe recalls, "but never a cup of brewed coffee. So, I answered honestly, 'No – I'm not really a coffee drinker.'"
As it turned out, the man who had offered Joe a cup was CEO Bill Stewart, which Joe discovered when he walked into his scheduled meeting. "The man running a very successful company was making the staff coffee," Joe chuckles. Despite 'not being a coffee drinker,' Joe and Bill built an enduring, warm relationship—so much so that in the early 1990s, Bill hired Joe to handle the outside controller and accounting functions.
The 1990s and early 2000s were a decade of generational transition. Brothers Bill and Don suffered declining health and subsequently passed away. "In early 2014," Joe said, "I had the opportunity to take over the business—and I jumped at it."
Making Stewarts a Family Business – Again
Around the same time, Joe's son Joey was finishing up his college degree. He had already had a taste of the business—figuratively and literally—when he worked the Stewarts Serving Truck at events. "My high school got very involved in Relay for Life cancer events. We'd bring the truck to events, stay 6 am to 6 pm, and serve coffee to people walking around the track. I had such a fun time. Who would have thought that 10 years later, I'd have a chance to run the company with my dad?"
Joey had studied automotive tech and management, so he had business skills he could now put to use at the helm of Stewarts. He jumped in as Director of Sales and enjoys being a creative counterpart to Joe's finance and accounting background. They both bring a great deal of passion to running the business—and that passion sometimes spills over. "Sometimes we end up arguing with each other, but it helps us find compromise and common ground," Joe said. "I'm the 'numbers guy' and he might have an idea for packaging, and I bring the practicality of whether we can afford it or not."
The Cappuccittis have deep Chicago roots, just as the Stewarts did. Joe's mother was born and raised on Taylor Street in Little Italy. Both enjoy going back to the "old neighborhood" for dinner at Pompei. Other Chicago favorites include Lou Malnati's, Entenmann's cheese Danish, and all Chicago's sports teams, though their house is divided when it comes to Cubs vs. Sox.
A Legacy Brand for a New Generation
Cappuccittis share the roasting operation as well as duties including making the boxes, taking orders, and working on Project Donate. After the move, Joey created a mini museum in the front office, with artifacts from every decade of the country's history. Seeing the cans from the 1910s and later has inspired them while they have been working on updated packaging.
They are always thinking about balancing the legacy of the Stewarts name with how to appeal to today's coffee drinkers. "It's a challenge, because people have choice with coffee," Joe said. "How do we get people to try Stewarts?" Joey added, "Once we got heavily into roasting and nailing the taste down, we found that in our favorite cup, we had recreated the 1913 blend. I feel so blessed to have the opportunity to bring that to today's coffee drinkers, because what's the key to success for Stewarts over the last century? The product."
"Stewarts was selected as 'Chicago's Official Coffee' for the 1933-34 World's Fair. To get to continue this tradition is very special," Joe emphasized. Joey added, "It's an honor to be able to carry the company into the next 100 years."
And, as for 'not being a coffee drinker,' Joe has certainly learned to love a good cup over the last 37 years. "The only way I drink it is black. That's how you can really tell if a cup of coffee is good. And ours is very good."
About Stewarts Coffee
Stewarts Coffee was established in 1913 by William A. Stewart on Chicago's West Side—and for 100+ years has made some of America's best coffee as the city's oldest family-owned coffee company. This tradition dates back to the 1930s when Stewarts Private Blend Coffee was chosen as the "Official World's Fair Coffee" during the Century of Progress World's Fair held in Chicago. Today Stewarts' passion to serve fine coffees and teas has employees traveling the world to bring customers the very best. Learn more at https://stewarts.com.